Camp Kinser, Okinawa, Japan 12/31/1999
KANSAS Rocked U.S. Marine Officers in Okinawa on New Millennium's Eve!!
This review is by a person who could luckily attend the show at the U.S. Marine Officers' Club.
Japanese here.
---
Today's show is truly a special one. Is it because it is inside a U.S. military base where it is IN Japan but is NOT Japan? That's correct. But not only that! What is much more remarkable is that this concert is held on the very last day before the new millennium.
The venue is "Kinser Surfside," a U.S. Marine officers' club. The gig is a part of a New Year's celebration party starting from 6:30 p.m. The floor is occupied by ladies and gentlemen all dressed up. Yes, your guess is right. Not anyone on the base is allowed to join this party. This is a "closed" party to which only U.S. Marine officers and their spouses are allowed. The audience are all seated at the tables arranged neatly. Oh yeah, it's such an unusual sight for a rock concert.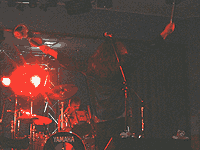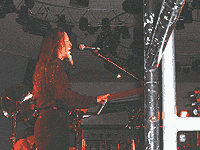 Well, it doesn't look too formal, though. Having some drink so far, the people appear to be relaxed and getting excited for the show to begin. There is a block of ice carved into the letters "KANSAS" with people taking pictures in front of it. But first of all, WHY KANSAS? There are heck of a lot of rock bands in the States... According to what I heard, KANSAS was chosen from among a number of candidates for this party by voting among Marine officerss on the base. What an honor to the band! I'm proud of it too!
And it's 9:00 p.m. The band get on the stage. Steve is with his goatee which is now becoming his "trade mark." Rich cut his hair really short. Robby's T-shirt is just as cool as always! The concert was introduced by "God Bless America," a dramatic hymn to the United States!! These U.S. Marine audience seem to be even more excited by this "patriotic" introduction. And without any break, started Song For America! Well, it is something you could easily guess but if you heard it in reality exactly in THIS situation, you would have been just as much impressed with this opening.
And here is what was hard to guess. You must have guessed that this would be a kind of "calmed down" version of a normal KANSAS show with the U.S. Marine officers as the audience. But your guess turned out completely wrong!! The band is rocking the best I've ever seen!! No need to mention about Robby who is ruling the stage as a great front man as usual, but Billy Greer, who usually looks quite "calm" on the stage, is swaying his body back and forth eventually holding his bass guitar up high. The band appears to be enjoying this special night, too!!
KANSAS, often categorized as a "prog" band, is actually a "rock and roll" band, too. I believe it's one of the very important features that makes them special. Complexity of song structures with frequent time changes, emotional and lyrical melodies, words with profound meanings, etc. With these features it's easy to categorize KANSAS as a prog. But you can never ignore the fact that KANSAS music also has the "heat" of rock and roll that makes your body move!!
Yes, KANSAS is R-O-C-K-ing!!! With that superb ensemble which is always EVER the same!! I'm so lucky to be able to witness this "extraordinary" night!
By the way, the audience are apparently excited but with few exceptions, most of them are still seated at their table even when the show is half over. Presumably they were advised to keep seated at their tables. Well, it's IN a military base. It must be essential that the "order" is retained even in a rock concert.
But there WAS a lady started dancing to "Play The Game Tonight" in front of the stage. There were also a bunch of people trying to get close to the stage at the end, but I saw them being stopped by a couple of muscular, strong-looking men, who are military police guys, I guess.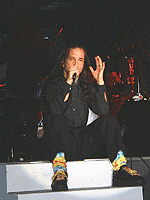 Well, I should mention about the set list (but you can't trust my memory too much).
Introduction:
God Bless America
Song For America
Play The Game Tonight
The Wall
Cheyenne Anthem
Hold On
Miracles Out Of Nowhere
Eleanor Rigby
Medley:
- Fight Fire With Fire
- Sparks Of The Tempest
- Fight Fire With Fire (reprise)
Down The Road including Lonely Street
Portrait (He Knew)
Magnum Opus Outro

Encore:
Point Of Know Return
Dust In The Wind
Carry On Wayward Son
I don't dare to explain song by song. 'Cause I know it's way beyond my ability to express my exact impressions in words. Actually this set list is completely the same as the one when they played in Japan last March except for its song order. I heard there are fans who are not happy with the recent consistency of their set list. But not me! I could truly enjoy this tighter, more energetic version of this set.
Yes, there are a couple of points that I should remark upon. First, what caught my attention is that Steve Walsh repeated "Yes, we are!" right after the third chorus that goes "... dreaming of a place our weary race is ready to arise..." Personally I think this part of the words includes a severe criticism to the modern material civilization so it sounded to me like he was trying to make it sound as "positive" as possible under this unusual circumstance of singing it in front of U.S. marine officers. (Maybe he always sings like this, though.)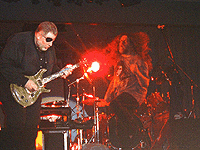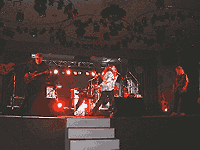 The second is the audience's reaction to Sparks Of The Tempest which was played as a part of a medley, sandwiched by Fight Fire With Fire. I heard many Japanese fans don't consider this song a right choice for the set, but Americans, at least the ones who are here now, appear to be enjoying this song from the bottom of their hearts! Robby's powerful vocals! Rich's guitar adds some spice on the rhythm! I believe this is another masterpiece of "rock and soul."
The last but not the least! There was a special guest appearance on Dust In The Wind. No, not Kerry Livgren. When they finished Point Of Know Return, Billy Greer made a speech at his microphone, which is rare to see, and introduced the guest - Sgt. Darren Wheeler who is a true KANSAS fan and a guitarist in a blues band on the base. This lucky sergeant guy whom all KANSAS fans of the world would envy started the song with his smooth and accurate arpeggios. He doesn't even look nervous. Not at all. Calm and completely self-possessed. He will surely succeed as a military officer. The song ends, he shakes hands with Billy and leaves the stage. Boy, do I envy him!!! And, hey! I can't even play the guitar!
And now the last tune that everbody knows - Carry On Wayward Son. There's one thing I always wonder about this song. They always play this song at the highlight of a show, but Robby's musical role in it is extremely small - both in singing and in playing. Doesn't he ever get bored with it? But such a thought is completely blown into pieces when I see him moving actively from one edge to another on the stage! Today again, my eyes were completely attracted to his each and every movement on the stage, which could be called dancing or possibly "prowling." Those days when Robby was away from the band, it was natural that Steve replaced him as a front man and Steve's vigorous action like a young boy was also really impressive. (Actually Steve and Robby are in the same age.) But Robby's dynamic action with some kind of dignity seems to me another feature of KANSAS's originality as their music is.
And at the last moment of the show, a familiar scene that Robby turns around and points out his finger at the audience! Now the KANSAS show to close the year 1999 and also this whole millennium is over. It's 10:30 p.m. And past 11 p.m. now, the band is leaving the venue.
And suddenly the Y2K stuff came into my head. I wonder if they can make it to their hotel before THE time. Now the clock finally hits 0:00 a.m. I look around outside the window. The lights are still on. The traffic is moving smoothly. We celebrated the safe and peaceful beginning of a new millennium!!
I heard KANSAS is planning to release a new album around this coming May and will start its recording at the end of January. I wish this year will be a good one for KANSAS and for everybody!!!
Thank you, KANSAS, for this unforgettable New Millennium's Eve!! KANSAS RULES!!!